"I LOVE AIJING: The Complete Works of Ai Jing"
Hosted by: National Museum of China
Curator: Chen Lusheng (Vice Director of the National Museum of China)
Venue: Gallery S2 & S3
Duration: November 20, 2012 - December 16, 2012
In the afternoon of November 19, 2012, Ai Jing opened her exhibition "I LOVE AI JING: The Complete Works of Ai Jing" at the National Museum of China after more than 2 years of preparation. The body of works included painting, sculpture, installation and photographs amongst others. The exhibition was over 2000 square meters at Gallery S2&S3 of the National Museum of China.
This was the first exhibition of a contemporary artist's complete works at the National Museum of China after its redecoration. Chen Lusheng served as the curator. The theme of Ai Jing's art was an eternal topic - LOVE. Supported by her own understanding of love, Ai Jing dug deep and expanded widely, presenting the theme through contemporary method. The internal correlation of grand narrative was showcased by the most daily expression. Intricate elaboration gave way to "feminine delicacy and gentility", making the works to have both visual impact and endless afterthought.
Ai Jing was a widely popular singer in the 1990s. Recognized as "the contemporary folk poetess" and "the leading figure of folk music", Ai Jing wrote many well-known songs such as "My 1997", "Once Upon a Time in Yanfen Street", "Chasing the Moon", "Made in China", and has cut 5 albums and several EPs. In 1999, Ai Jing switched to visual art and learned from contemporary artist Zhang Xiaogang, after which she settled in New York and travelled around the western countries. New York is the global center of art and has all kinds of artistic treasures. Ai Jing ambled around galleries, auction houses, flea markets and among the street artists, she felt nourished both visually and culturally by these novel places. In New York, Ai Jing leaded an artist life and completed her transformation from an amateur to a real painter. Her transition from music to visual art attracted great attention and favorable reception. Eric Shiner, celebrated critic and Director of the Andy Warhol Museum, Richard Vine, critic and Chief Editor of Art in America, Chinese contemporary art critic Lu Peng and Zhao Li, professor of Central Academy of Fine Arts spoke highly of her.
Ai Jing began participating important domestic and overseas exhibition as a visual artist since 2007. Three solo exhibitions were held in Beijing, Shanghai and New York. After her exhibition "I Want To Love" in New York in October 2009, she becomes familiar to art lovers and collectors. Today, Ai Jing is already a comprehensive artist of great splendor on the world stage of contemporary art.
Ai Jing's transition from music to visual art cannot be viewed as "switch" or "trans boundary", but continuation. Her music is loved because of its humanistic concern and distinct melody. In her visual art, though the changes, the concern for society and the longing for freedom and love stay. To some extent, her visual art is the sublimation of her music creation; it is a spiritual expression of over 20 years of working, living and trial. Ai Jing possesses a unique gift that gives her acute insight and makes her able to balance between gist and sense, to pursuit her artistic belief using conceptual expression and philosophical thinking. Not catering to anyone's taste, she develops freely and creates new works over time. Critic Zhaoli commented that Ai Jing's creation is "not only a transition of identity, but a new emergence of cultural attitude and stand". In her years of practice, Ai Jing keeps her sharp sensibility and ambles freely among music, fine art, literary and other disciplines. This makes her creation rich and varied.
In this exhibition, "Pieces", "Waves" and "Flowers behind Every Door" were installation works that beard Ai Jing's psychological journey. After contemplation and elaboration, she hoped to share her life experience and reflection of love to viewers, and arouse their resonance.
In the autumn of 2011, Ai Jing began conceiving her work "Pieces". Within a year, she made 64 red copper pieces, 90 centimeters in diameter. All the pieces were handmade with stoving varnish. "Pieces" was inspired by the Chinese Way of Tea and was closely related to her state of mind. The year 2008 witnessed a significant change of Ai Jing's life. She moved back to Beijing from New York where she had already got used to. For her, it was like "playing chess with no idea of where to put the pieces". She began to drink tea and make friends with Buddhists, visited temples and tried to apprehend the Buddhist spirit. She started to put down former arrogance and ignorant, and became at peace with herself. She said, "From music to visual art, I've always been running and chasing. The creation of 'Pieces' calms me down and makes me feel my inner pliability. Beneath the industrial and modern surface, these pieces posses oriental charm, bring viewers ethereal spirit and a mood of Zen."
Another representative work, the marble sculpture "Waves", was placed at a more private space with video image of sea on four walls and sound of the waves rushing to shore. In this atmosphere, viewers were violently stirred at heart. A black and a white sculpture of wave symbolize the joint point of dream and reality, bringing viewers into meditation. "Waves" is inspired by "Tsunami", a woodcut of Japanese Ukiyoe artist Hokusai. Ai Jing didn't worship the classic style blindly, but translated it into a symbol of her own idea. She said "the wave" was a depiction of mood; it was imagery neither realistic nor abstract.
If "Waves" was a presentation of oriental spirit, "Flowers behind Every Door" was a blending of various elements with the stand of cultural integration and coexistence. To make it more accurately expressive, Ai Jing, a perfectionist, travelled the world to search for different doors. Age-worn doors of Chinese, Indonesia and European styles were found as symbol of different cultural origins. Ai Jing also tried to explore the complexity of the past and the present, and to search for the spirit of sharing and mutual understanding. Flowers behind the doors were also collected from around the world. Ai Jing hoped this uplifting work could convey the "Ai's life experience" and her optimism to viewers and inspire them.
The works exhibited in the National Museum of China is a profound emotional return of Ai Jing to her homeland and an excavation of its artistic value. "My Mother and My Hometown" is a concentrated reflection of her creative concept. Leaded by Ai Jing's mother, 54 relatives, friends, neighbors, and old classmates of Ai Jing took part in the creation. They collected old sweater and other knitting wool, made a tapestry with 6 meters wide and 16 meters long bedecked with the English word "LOVE". In front of the tapestry was a sculpture of a mother sitting on a chair, knitting, which modeled on Ai Jing's mother and extolled the great mother love. This work showcased the cultural characteristic of northern China and Ai Jing's profound nostalgia. The installation "My Hometown" was also exhibited this dumped boiler created new visual effect, bringing viewers the sentiment and atmosphere of northern China. This emotional experience warmed up the early winter.
The exhibition lasted for 20 days, from November 20 to December 9. To shorten the distance between art and the public, and to manifest that Ai Jing's creation originates from mass culture, the project "Under the Tree of Life" was launched. On 3 p.m. every Saturday during the exhibition, Ai Jing invited artists across various disciplines to contribute to the creation, thus giving way to the comprehensiveness and diversity of art.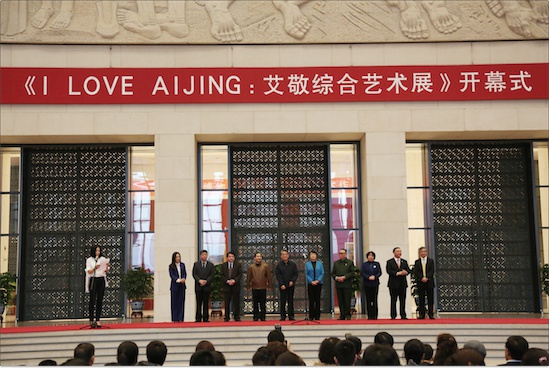 Exhibition Opening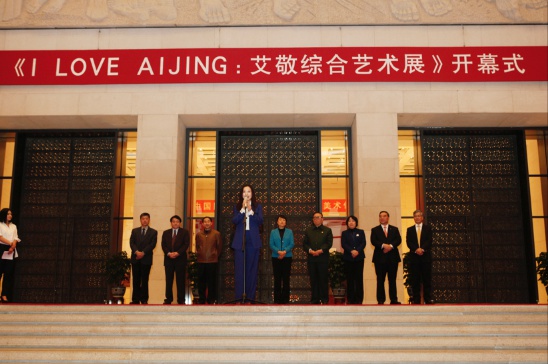 Ai Jing's speech during Opening Ceremony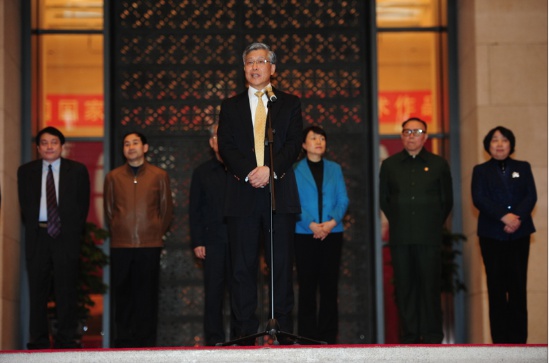 Vice-Director of the National Museum of China Cheng Lusheng's speech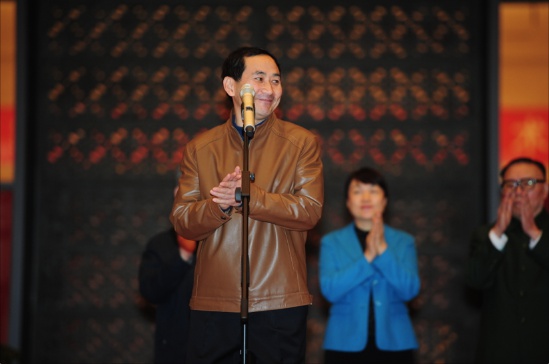 Secretary of China National Museum Huang Zhenchun's speech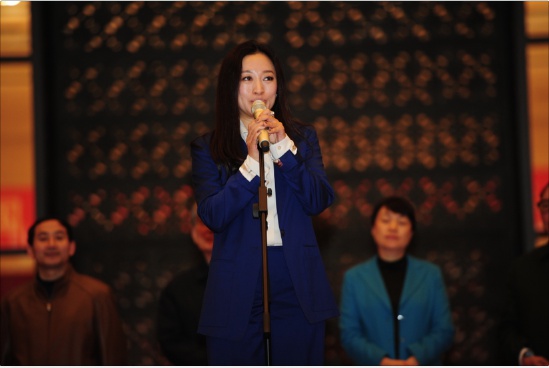 Artist Ai Jing's speech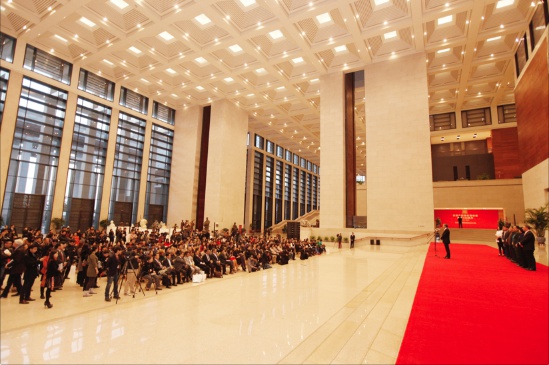 Opening Ceremony