Ai Jing
June 2014
People's Fine Arts Publishing House
Struggle is one of the books of arts and humanities, specially promoted by the Book Brand of "Beautiful Man for Art" of People's Fine Arts Publishing House in 2014, and another work written by Ai Jing after Ai on the Road published by China Writers Publishing House in 2004.
There are three chapters in this book: once upon a time of music, art, life and struggle, and when love becomes faith, which divides the moments of Ai Jing's growing up, sojourning in New York and artistic creation according to different locations and time. Through her unique style of language, Ai Jing tells her own stories of music, journeys and creation, as well as those happiness, sadness and gains that belong to her life at each stage.
This is the first time that Ai Jing wrote to recommend ten musicians who had influenced her musical creation and eight modern artists, from which people can tell the nourishment and influence of art made by the greatest musicians and artists in the world on Ai Jing.
Chapter One Once Upon A Time of Music
11. A Journey of One's Own
2002 Beijing· London· New York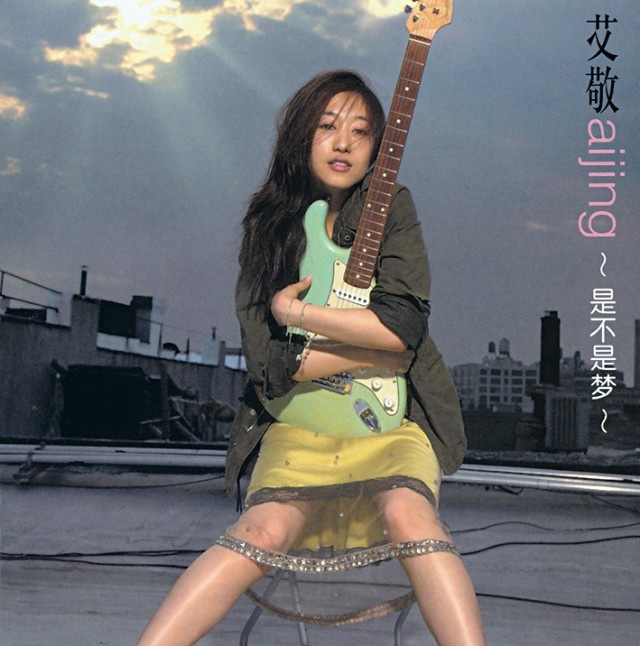 Album Cover of Is It a Dream
……
I came to London alone. The winter in London is cold, gloomy and depressing, coinciding with the heavy snow that didn't happen in London for over ten years. For the first time, I began to miss Beijing, miss the Instant-Boiled Mutton in the hot pot I had in Beijing, and miss the "Braised Rabbit Meat in Lao Gan Ma Sauce" I had with my little sister.
When I came back to the hotel from the recording studio every day, I would go into the telephone house in the lobby to call back in New York and Beijing, and then came to my room and immersed myself in the hot bath. Until my body got warm, I would go out to have a delicious meal. I remember that one time, I went to a restaurant of Asia Fusion style located in the SOHO district of the city center to eat and I also drank a little glass of wine to warm my body. Actually I am not very good at drinking and especially drinking when the stomach is empty would always make me drunk. So I went back to the hotel by taxi, dizzy. Along the way, I watched the outside through the car window. The passing-by buildings of London were like a long scroll painting, being unfolded in front of my face. The houses, staying close to each other, didn't look like to convey much tender feelings, as if those buildings and the people inside them all close their ears refusing to listen. Numbers of chimneys interlaced in the dark-blue night, pointing to the sky. The Christmas has just passed in London, so I was wondering how the Christmas Santa entered into every house through such narrow chimney channels. The night was so cold that it seemed like only by celebrating the Christmas every day could we warm the city. It reminded me of The Little Match Girl, of Shenyang, and of my parents who seemingly had never doubted about my journeys. My parents' trusting on me and not restricting me made me a man in my heart. I was a little confusing that whether my weakness at that moment is more of a man's style or of a woman's style.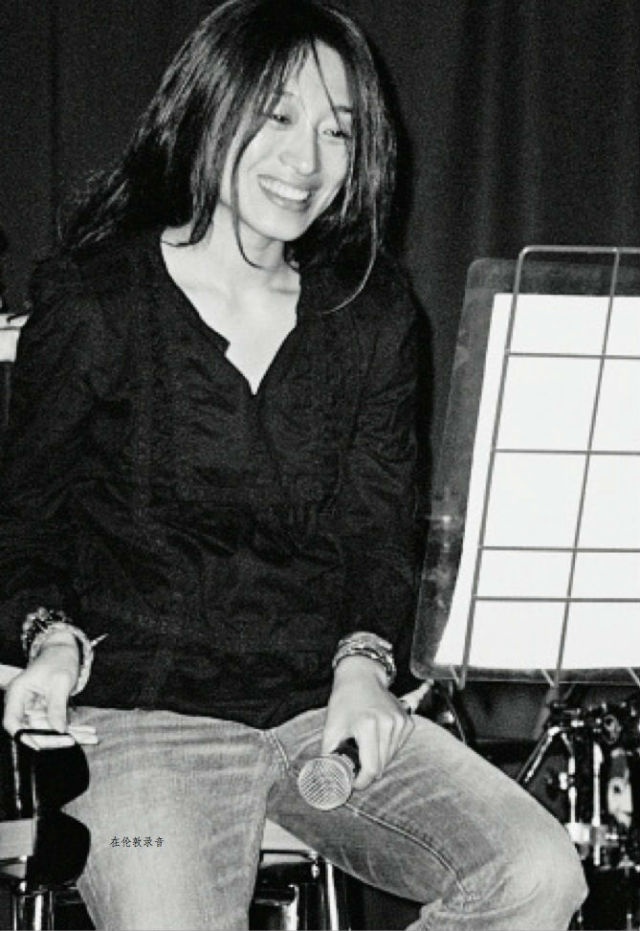 Ai Jing in her studio, London
Chapter Two Art, Life and Struggle
6. Sperm, Love and Disease
2007.7
The Long March is a manifesto, a publicity team, a seeding-machine. ---Mao Zedong
There are some of Xiao Lu's new works on installation art, and some tables and cabinets in irregular shapes in her studio, a large and empty space of over 300 square meters. Bing Yi said, in fact, those cabinets looked like coffins in variable shapes, and once the mirror in the cabinet reflects your image on it, you are just put into the "coffin". Xiao Lu playfully laughed after hearing this saying.
I am very interested in the Sperm, a new work made by Xiao Lu, and asked a lot of her creation conception on it. She told me that on an art symposium named "Long March Project", which was held in Yan'an in May 2006, there were over 40 modern artists attended. Xiao Lu, as an invited artist, decided to create a work on installation and performance art – Sperm. She had prepared 12 empty bottles and a refrigerated cabinet, and she asked for sperms from these artists who participated in this meeting, and planed to keep the sperms in cold storage under the specific temperature and choose the good ones to do artificial insemination after half a year. As a result, the behavior of Xiao Lu asking for sperms failed. None of the artists would like to participate in this plan and devote their sperms.
Maybe Sperm, the work itself, despises and holds a feeling of hostility toward men; maybe Xiao Lu has blew the men and their pleasures they took pride of by a wiser means; maybe this is a contribution made by an artist towards the society; maybe sperm is the highest state of love. It all depends on how you understand and view.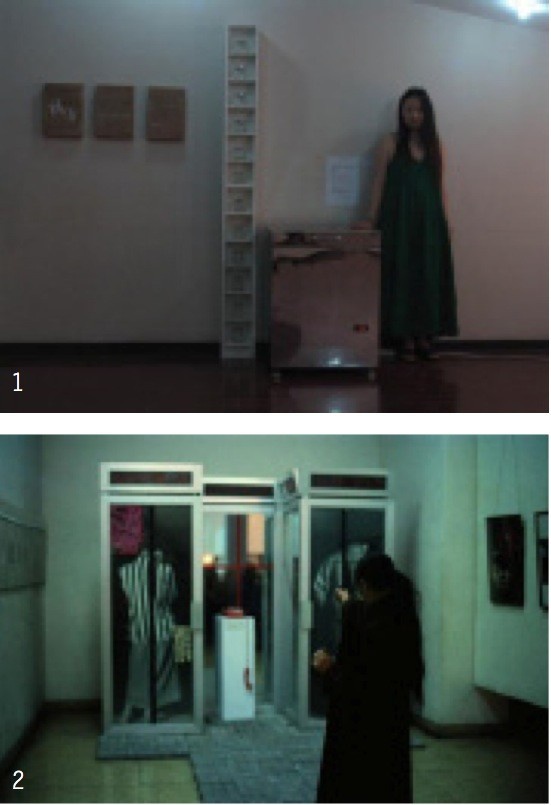 Chapter Three When Love Becomes Faith, Art Dominates Where Love can Reach
1. I am just living in a way as an artist.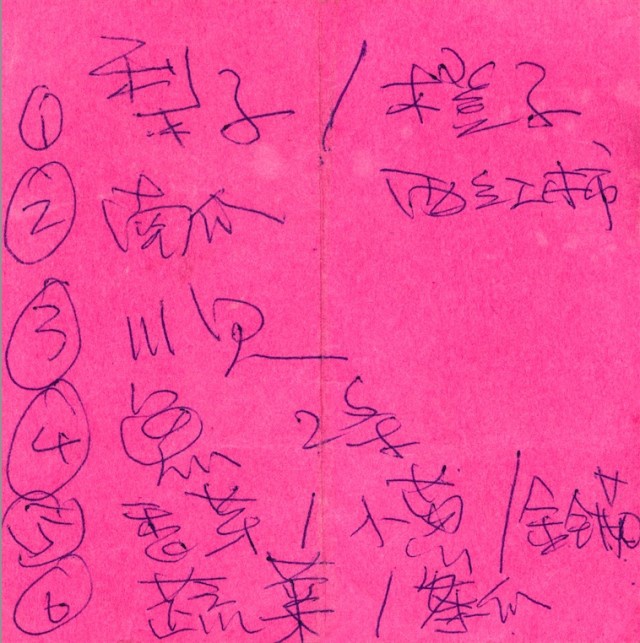 Ai Jing was writing the list of green grocery shopping for cooking.
When I was in New York, I just spent my time in painting, seeing exhibitions and cooking. For the first time, I found that I can cook by myself. Once I boiled two eggs burnt, which proves that I don't have powerful living ability. Once I hated the smell and taste of oil, salt, sauce and vinegar, thinking that those smell would damage my imagination and inspiration and drag me into the real space. However, when I started painting, I fell deeply in love with cooking meanwhile.
Every weekend in New York, I would go to visit the museums, art galleries, previews of auction, and various kinds of expos, street arts, and even flea markets. New York is a suitable place for artists to live, for it is filled with the atmosphere of creation and the inspiration is floating among the air. I think that whether I am an artist or not doesn't matter at all, "I am just living in a way as an artist."
I think the first thing for an artist is to live in a way as an artist, and this kind of life cannot be described. What associated to it is to create relevant works, or just do nothing, just live on.