Ai Jing solo exhibition
Curated by Chen Lusheng
May 2014
People's Fine Arts Publishing House
Shanghai, China
BACK TO SQUARE ONE
After the exhibition at the National Museum of China in November 2012, I fell into a melancholic and wistful state. I had no idea how to go on with my ambitions after such a glorious moment. I remember saying at the time, "I can see the entire world as I stand on the steps outside the National Museum." The statement was not laughable, nor was it conceited. The key was how I should prepare to realize all my dreams.
During Chinese New Year in 2013, I went back to New York and stayed there for a month. I was sick the entire time with a cold, and I kept coughing out "smoggy" mucus. That is not what I want to focus on; I just accepted that as what my beloved but overwhelmed Beijing had imposed on me. I was in Los Angeles first. Every day I was in bed, refusing to get up. My sweat soaked through the sheets, and my extended state of sleep left a damp and sunken pit in bed. I did not like California or Hollywood. Even though the Sunset Boulevard was right outside the hotel, I'd much rather sleep. I was sick, very sick, so I kept taking medicine and eating chicken soup, hoping to return to New York as soon as possible.
After Los Angeles, I made it to Las Vegas. I was a stingy gambler, only allocating 100 dollars for myself each day to play the slots. Very quickly, I returned to the hotel room again, with a view of flatness outside the window and a sea of lights. I thought at that moment, these same lights were shining on different people looking at them, as shown in the movies. I had been lucky, and I did not need anything. I did not wish for unexpected fortunes, but I would not say that I was not a gambler. Gazing at the view outside, I wondered what chips I had in my hands as I headed on to my next journey.
In order to kill time in Las Vegas, I went to the sauna and spa every day. When I eventually got on the plane for New York, rashes broke out on my face due to dehydration from the cold and excessive sauna time. I told my "partner", "I'm sorry, this is what I will look like from now on."
The morning after I had arrived in New York, I went straight to my dermatologist. My skin condition drastically improved, but I still had not gotten over the cold. I could not drink coffee anymore because I could not smell or taste it, but it was a habit. My memory could not be separated from coffee.
I decided to stay in New York alone. That winter in New York was freezing, and my fur coat became my armor against the weather. I stayed in my favorite hotel downtown and walked to a studio everyday to practice drawing. I had two classes each day for six hours in total, sometimes, three classes for nine hours. It was a studio for artists to practice figure drawing and sketching, there were all kinds of models-black, white, men, women, fat, skinny, you name it. The time of a practice session ranged from one minute to five minutes, from ten minutes to twenty minutes, and forty minutes: different lengths of time offering different methods.
I wanted to, start from the ground again. This studio was even lower, in the basement. One had to walk down a narrow and long stairway. I gripped the handrails tightly so that I would not trip and fall. There were all kinds of artists taking lessons in the studio-professional artists, young amateurs, and some famous artists who lived nearby-but we rarely communicated with each other. We only had a fifteen- minute break for each class, and everyone focused on the models and drawing. It was a gym for artists, training skills as well as resting.
In this process, I began to draw with my left hand, as suggested by the instructor. I was surprised to discover how interesting and liberated my left hand was. There was no fear or constraint in the lines drawn by my left hand, seemingly uncontrolled but always ending on a perfect note. I was very pleased with my left hand, as if it were an undiscovered gift.
I was very happy in New York. Even though I missed my family and my "partner", I was very happy. Everyone working at the hotel was very nice to me. When it came to tipping, I was very generous. It was not much money, but I gained so much from it. I was very good at calculating changes and making use of spare changes. As a result, I got the nickname "the Queen of Spare Changes". I was clueless with the numbers before the decimal point. I would spend thousands and thousands of dollars on the best art supplies because I believed that I could only make the best work with the best materials. I would splurge in art supplies stores, as if I wanted to give all my money away. From Paris to New York, the staff at art supplies stores all thought I was some famous artist, and they kept bringing up Zeng Fanzhi. When I carried back all the supplies that weighed hundreds of kilograms, the custom investigated for months and I had to explain that I was not a smuggler and all that stuff was for my own use.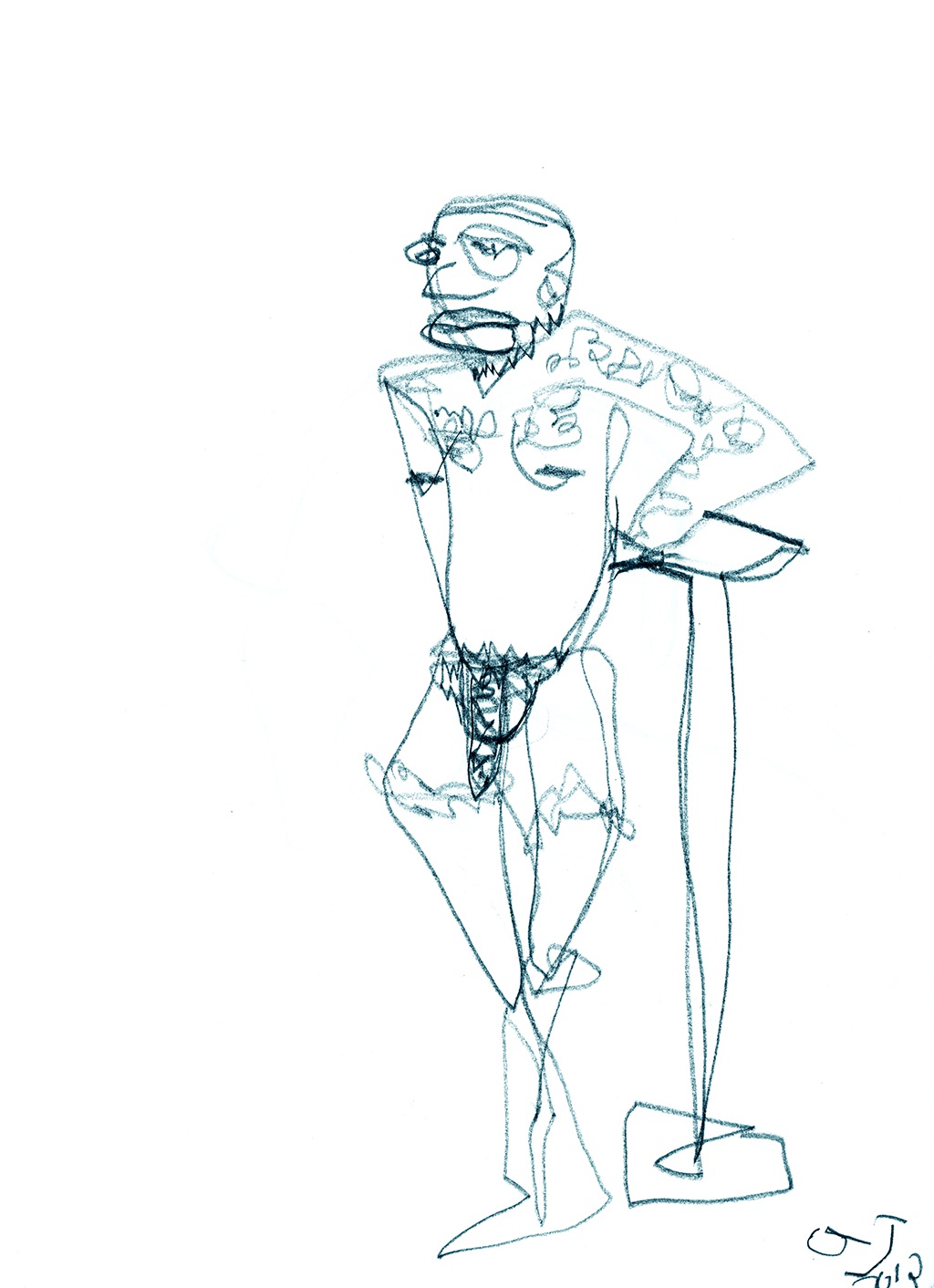 Ai Jing's sketch from the left hand, 2012
I LOVE COLOR
Life is unpredictable and substantial, like flowers. Each flower is different but beautiful in its own way. We are trapped in desires and obligations, always chasing and rushing after something.
Happiness for an artist is to have time, and the biggest investment in art making is also time. With time to spare, my happiness lies in the game of colors.
I keep trying to use the symbol of "LOVE" to construct color and the accessibility of a work.
I love Color #1 is the first of the series, and it received a lot of compliments during the exhibition at the National Museum. It seemed free from the rational mechanism of the past "Love" series.
The works in I Love Color are about exploration and attempts, overthrowing and reconstructing the game of color in order to challenge the distinction between symbols and imagery. It usually took me a year to complete such a work. Sometimes I left it aside and painted over it again when it dried. Every layer of color left its traces, and every piece of brilliance was covered up again. This process is challenging to me: as the colors run freely on the surface, you have no idea where they are going. It would not be fun if you do. As a result, the brush in my hand is like a bunch of free-spirited puppies-I am holding a leash around them, and they are holding one around me.
The way I created the series I love Color was more like a game. It began with childish doodling, casually and freely. It ran wild like a horse at the edge of a cliff. It resembled children's fearlessness, courage, innocence, dreams, curiosities, and expectations. Eventually they left for their next game, giving no care.
I have always liked children's drawings. Whenever I see one by my nephew, I want to sign my own name on it, like a hawk searching for food.
I think I am actually very courageous, and it is the childlike courage that has kept me going and challenging myself.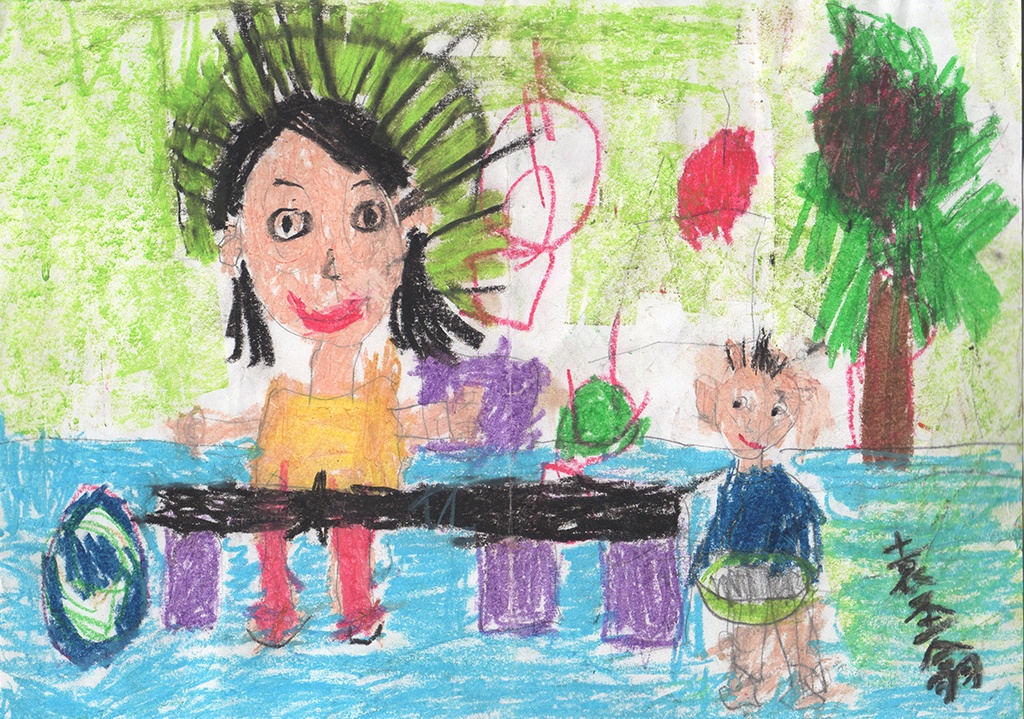 Drawing by Ai Jing's nephew
THE MEMORY OF COLOR
When I returned to my studio in Beijing, in front of my expensive and abundant art supplies, I tried to figure out how to maximize them. What is my favorite color? I like blue. Blue is deep, fresh, and free. Blues. Blue collar. In Japanese, the word "blue" sounds the same as the word "love".
So I painted in blue, different shades of blue together. I was lost in it. I had no control over the blue. Had I always felt blue?
My childhood memory came to me, and my hometown Shenyang. When I was little, I always went to Xinmin County during vacations, where it was filled with cornfields, the earth and the shining sun. Maybe that was my color.
So I packed up and went back to my hometown, back to the earth. Villages have changed drastically, and I could barely find what I remembered it to be. I realized, all the memories were related to emotions. That was to say, visual art, music, poetry or literary languages were all expressions of subjective emotions, but it was a different thing to display reality.
When I was back in Beijing, I began my journey of color based on my memory of the northeastern Chinese villages, which were so defined by colorful harvest: the cornfields, gold as the sun, different shades of green. It pleased me that I was good at using colors, in a bold and precise way. I kept using yellow, different shades of yellow, ranging from dark yellow to bright yellow, like the sun. I would get dazed after standing in front of these colors for more than two and half hours. I used these colors in an exaggerated way to release my emotions freely.
It took more than a year to finish the work I Love Color #6. In the end, I turned off the lights in the studio, painting at dusk and enjoying the light and shadow between the paint and the color. It was a tantalizing process to add colors onto the canvas in the dim light from the outside.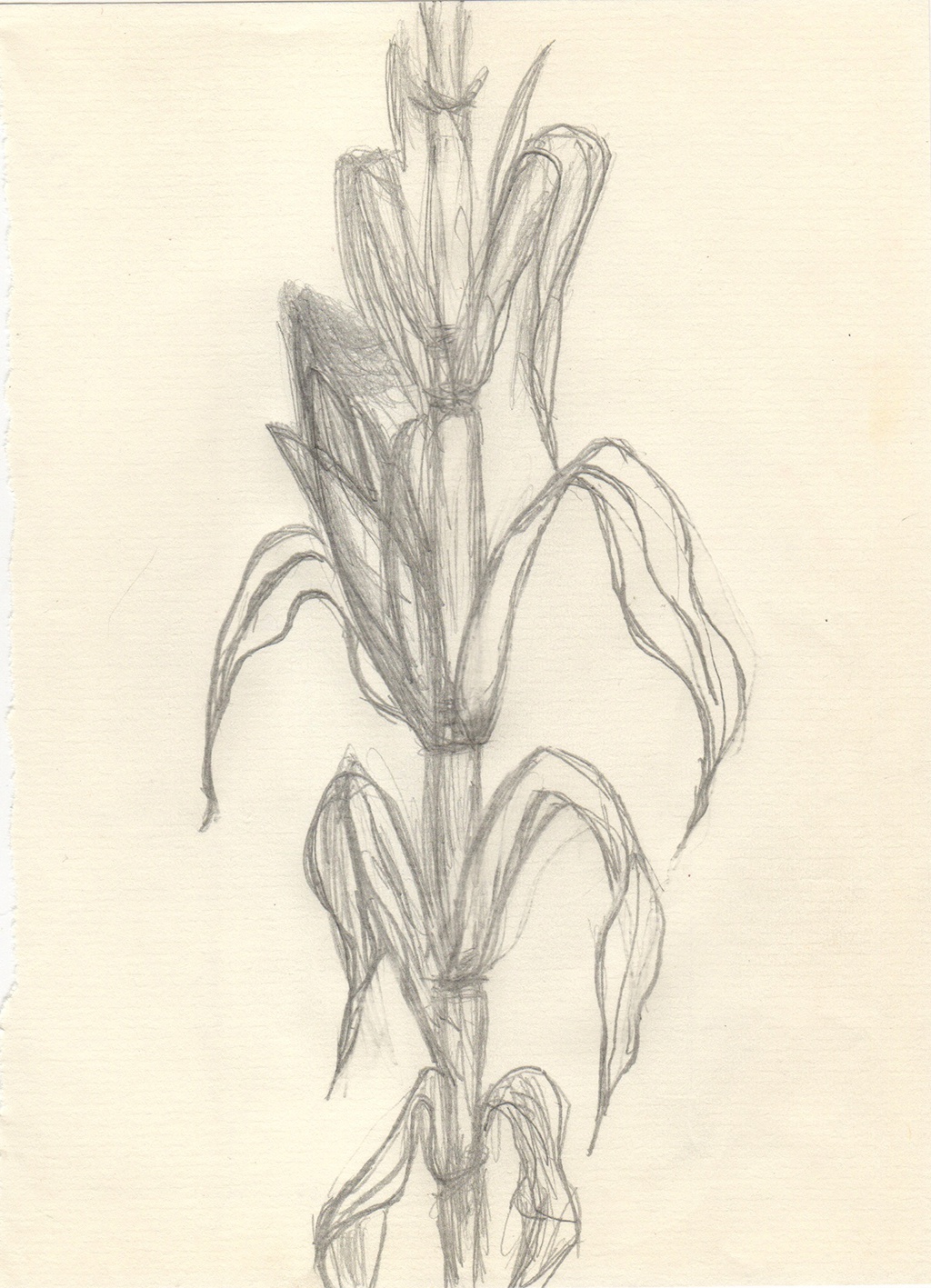 Ai Jing's sketch, 2013
THE MAGIC SPELL OF MR. R
When I was preparing for my exhibition at the National Museum, I carried around a heavy suitcase with a lot of research and images in it, one of which was a catalogue of Mark Rothko. I like his color and am familiar with his work, but I do not know much about the artist himself. I never looked up anything about him even though I had bought his catalogues more than ten years ago. I have had the opportunity to look at Rothko's paintings closely at auction previews. I could never figure out if there was any profundity in his work, but I was so inexplicably drawn to it. At first, I thought the way Rothko handled the layering of color was akin to that of Chinese ink paintings, light and delicate. Later on, it seemed that Rothko's color was a language that spoke beyond itself.
When I had finished my installation My Mother and My Hometown with the assistance of my mother and relatives, it became clear that the background of this work resembled Rothko's paintings. It was an incredible coincidence, and it motivated me to experiment further. I began working on my color pattern series Mr. R. I came up with the name only after the series had been completed. I tried very hard not to think about him in the process of painting, but his influence was there, and the construction of the patches would always reflect it. I was angry, I struggled, I wanted to exceed him, but it was as painful as peeling off my skin! Has painting died in the 20th century already? I doubt it.
During the year of ups and downs, I slowly got to understand the relationships and constructs between those colors, as if I were making my way into the world of "Mr. R". These colors are magic spells-they are shapeless and undetectable, yet mesmerizing and enchanting.
Every game is dangerous, including the game of colors.
I decided not to continue with the series Mr. R; it was enough to have these few. The world does not need another Rothko; nobody would exceed him. I am not able to, nor do I want to. I do not want to become him, nor can I. I will just be myself, one who embraces the sunshine and the earth.
AIJING, MAY 2014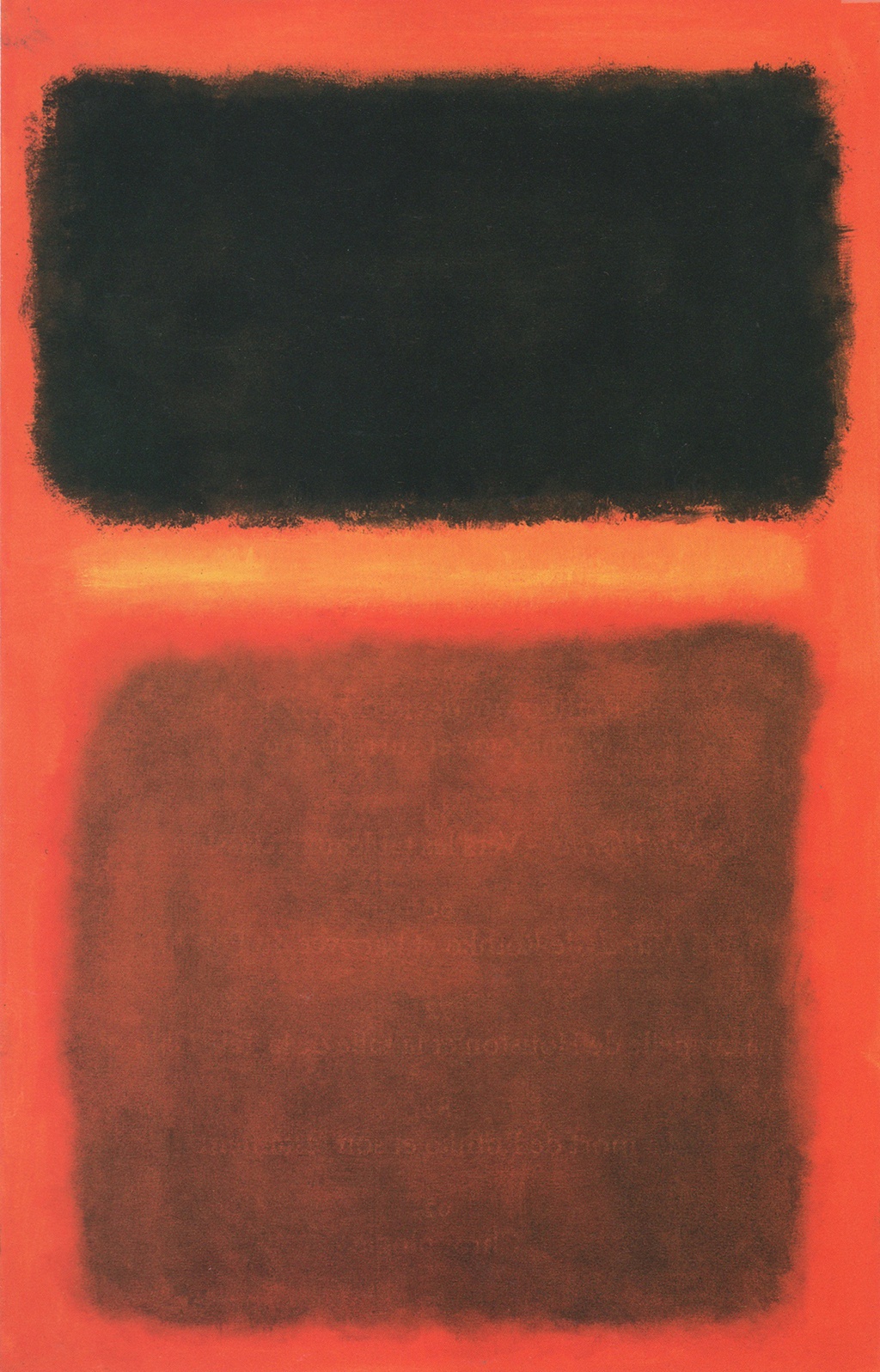 Mark Rothko
124 × 78.7cm
1956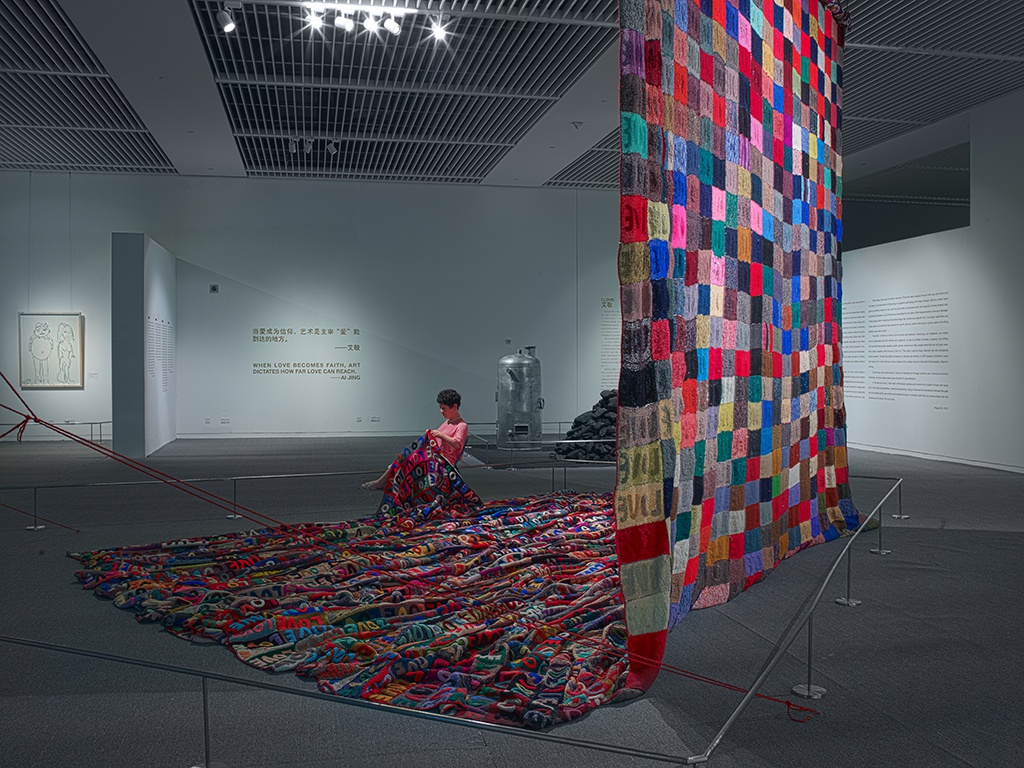 Ai Jing, Installation "My Mom and my Hometown"
Abandoned wool, fibreglass, reinforced plastic
1600 x 600 cm
2012, National Museum of China, Beijing