LA CHINE ARDENTE, monumental contemporary sculptures
Group exhibition curated by Michel Baudson and Fan Di'an
July 4 - October 4, 2015
The Old Slaughterhouse, Mons, Belgium
---
This exhibition with its very distinctive focus of interest, far removed the tradition of ink and brush, offers a fresh look at contemporary Chinese art. Most of the works on show have been created in the last few years. They challenge us by affirming their difference and represent an up-to-date take on issues relating to sculpture and the world around us.
Twenty-five male and female artists, ranging from the pioneers of the late 70s and early 80s to the latest generations, affirm the three-dimensionality of their medium and re-appropriate the diversity of their materials. Whether these are of industrial, artisanal, mineral or natural origin, recycled or man-made – not to mention the use of video – all become raw or virtual materials for the development of artistic offerings that are as unexpected as they are relevant. The questions they raise both extend and confirm the overturning of artistic assumptions initiated by the avant-gardes of the last century.
Several themes will be developed through these pieces – some monumental, others fragile – which revisit and transform the traditional themes of landscape, nature and environmental challenges, examine the challenges of mega-urbanisation, consider the feminine in contemporary art, reinterpret Chinese cultural history, update and hence redefine myths such as that of the Phoenix, and deconstruct or reinterpret the forms of art history or of human representation in order to reshape them according to the new imaginative concerns of a redefinition of Chinese cultural identity and what makes it distinctive within the global art scene.
---
Featuring artists:
XU Bing, ZHU Qingsheng, XIAO Yu, LIANG Shaoji, QIU Zhijie, LI Zhanyang, LIU Wei, LIANG Shuo, JIANG Xinyu, CHEN Wenling, SHI Hui, LI Hongbo, MIAO Xiaochun, LIN Tianmiao, AI Jing, WANG Luyan, XIANG Jing, ZHAN Wang, SUI Jianguo, WANG Mai, HE An, WANG Du, YANG Jiechang, CHEN Zen and WANG Jin.
For this exhibition artist Ai Jing will showcase her iconic installation "Tree of Life"
The installation Tree of Life was specially created for the 2010 group exhibition "Reshaping History, Chinart from 2000 to 2009" at China National Convention Center in Beiijing, it has since become a central piece of Aijing artistic expression and took part in the November 2012 "l LOVE AIJING" at the National Museum of China in Beijing and the 2014 "LOVE AIJING:Ai Jing's Love" at the newly opened China Art Museum of Shanghai.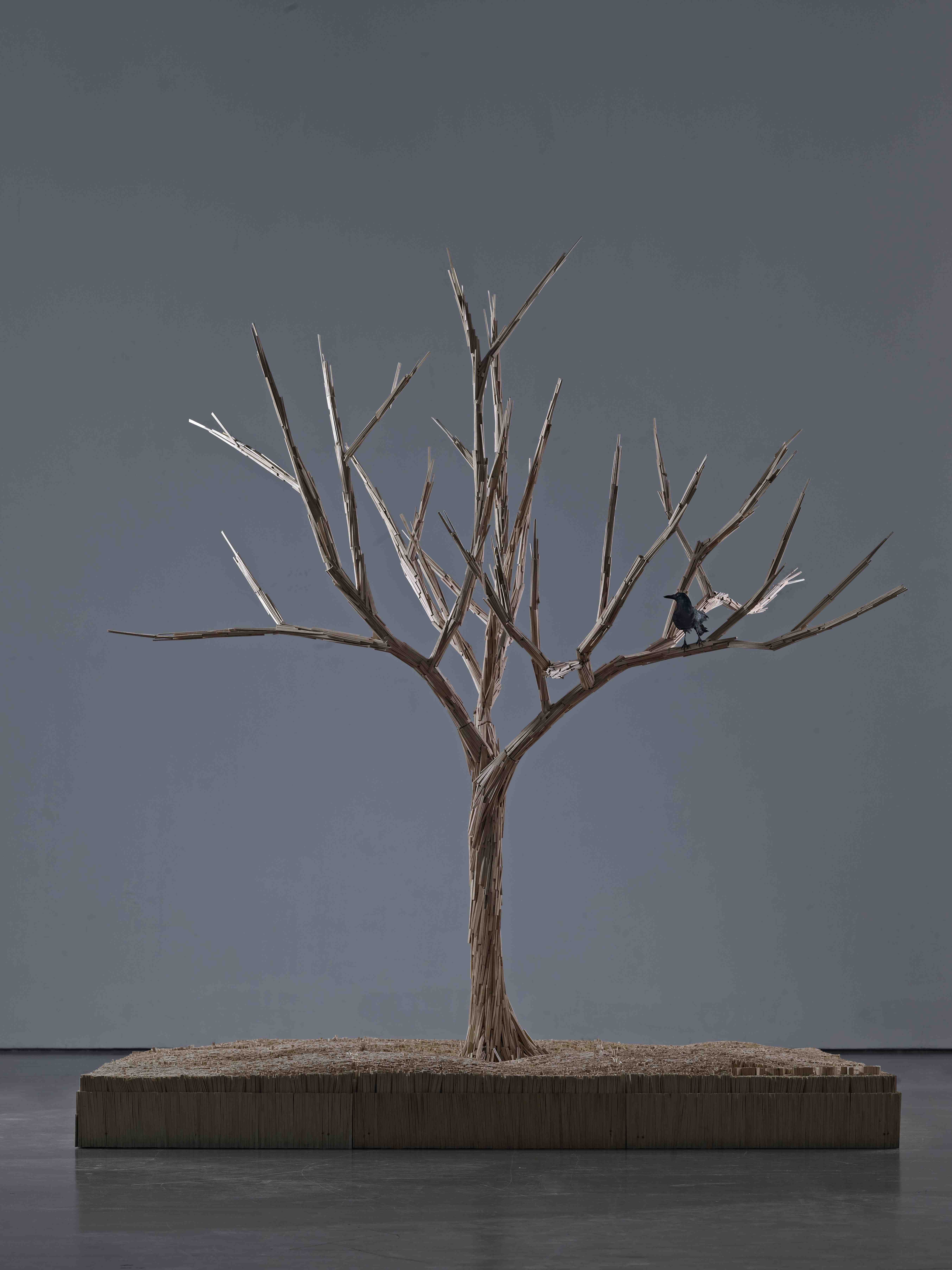 Installation: Disposable chopsticks and comprehensive materials
350×350 cm
2010